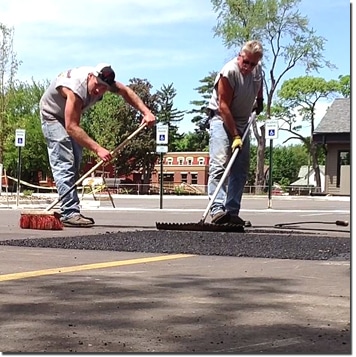 Sealcoating & Crack Filling
SEALCOAT YOUR DRIVEWAY/PARKING LOT
For over 30 years Belson Asphalt has been sealcoating and crack filling driveways, parking lots, and other asphalt surfaces, in Southeast Michigan including Montgomery. Sealcoating and crack filling typically go together, with the sealcoating protecting the asphalt surface, and the crack filling to help prevent water infiltration that gets underneath the surface, weakening the base and providing a place where water can freeze and begin to heave and further destroy the surface.
We use the highest quality sealcoat, applied to the highest quality standards. Although some companies will cut corners to stretch out the season, like watering down the sealer so it dries faster, we at Belson believe that quality and your satisfaction is a higher priority than squeezing in additional work.  We will never apply the sealer out of spec, and we only work when the weather conditions are optimal for application and drying.
FOR QUALITY SEALCOATING CHOOSE BELSON ASPHALT PAVING
For the highest quality in sealcoating, contact Belson Asphalt Paving (and sealcoating, of course!). During the season, give us a call or email and we'll get you on our schedule at the next available date. If it's the off-season, feel free to leave a message and we'll be sure to contact you to get you on our sealcoating schedule when the next season starts.